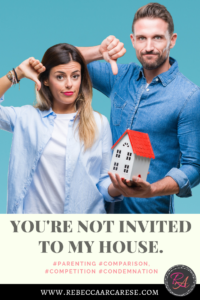 With a teenager and preteen, we try to have an open door policy.  The more kids the merrier.  Bring your friends, and their friends – all are welcome.  Except one.
This one was born from You Never and All the Others.   They had a child.  Its name is Everyone Else.
Everyone Else gets to stay out late.
Everyone Else has a never ending flow of money
Everyone Else has the clothes that cost more than my weekly paycheck
Everyone Else is not welcome in my home.
We talk about comparison, competition, and condemnation.  As women, it can be a difficult road.  But it is not just women.  As parents we want more for our kids.  At what cost?  Everyone Else is expensive  –  more costly than just money.
I expect my kids to ask.  It's ok.  I did.  We all can get sucked in my the shiny things in the ads, the mall, the hallways of peers that seem to surround Everyone Else.   When we have the shiny things  – do we feel more complete? More loved? More like we fit in.
A long time ago, I decided not to invite Everyone Else into our home.  It is not hard. It is not emotional.  Ask away.  They want more – earn it.  He wants the latest Jordan's – work for it.
Everyone Else wants them for free.
The bigger question is how to we show love, kindness, and respect so that we are filled up by our relationships, not our stuff.  I am not talking about the occasional impulse buy.  I am talking about the need to fill the hole of emptiness with more things. More things to make others like us.
How do we fix it?
We can listen more.
Leave the judgement to judges – it is not in our job description.
We can reinforce love, kindness, and understanding.
When our kids are surrounded by mentors that they can seek when we as parents are not enough – they thrive.   The more encouragement we bring to their lives in the difficult season of discovering their own "brand" – the better.  How could a mentor or a safe listening ear change your own life?
Do you have someone to listen to you?  Remember – your story matters!
Everyone Else exists in the silence.
Love exists in the light.   We do not have to agree on every subject to listen.  We do not have to have the same background or job.  Love thy neighbor was not just a catchy phrase for a wall sign.  It is a command.
How can we love better?  How can we listen more?