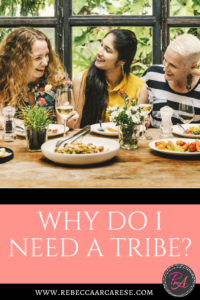 My husband jokes all the time about the "mom mafia".  I do not think you really have to be a mom to be a part of this tribe. It is really a woman thing. A relationship thing.  Whenever one of us experience a trial, hard-time, health issue, our women tribe move into action.  There is food…..so much food.  Of course there is also a listening ear, help with carpool, and general rally so no one is alone…but there is always enough food!
I know I have amazing friends. It is hard not to feel it when you put yourself out there in this type of work.  The women around me encourage me, challenge me, and are genuinely interested in how life is going.  It is a two way street.  I love celebrating the successes of my friends, big or small!  Stay-at-home, work-at-home, traditional work – those labels do not matter.  We thrive when we have a tribe of women surrounding us in all seasons of life.
Never is that more true than when a trial hits.
This past week I travelled back to my childhood home.  Momma was in the midst.  You go when it's your momma.  Right!
Although, the health issue is on the mend and the light is so much brighter than we thought it would be..they came.  They came out in a mighty way.  It is interesting to see a generation of women different than your own surround their friend in her time of need. I have always known my mom's friends were amazing.  They have even thrown me out of town baby showers!  So much love!  This particular week the tribe came with hands full and hearts wide open.
So came the food.  I am sure my parents will not have to shop or prepare food for over a week.  It is so great.  Especially when I had to leave and come back to tend to my own family. I know she is in good hands.  Culinary skilled hands!
How do we cultivate such an amazing tribe of women?  Years?  Well these women surrounding my mom all met at work!  My mom started back to work in an office when I was in high school.  So some are friends that have been there since I was a baby, then there are the friendships cultivated from 8 hour work days and conversations around the lunch table.  Sick times, vacation times, job changes…they have shared it all.
How do you build your tribe?  What part do you play in sewing the seed that tightens the bonds of friendship?  I am not a huge cook.  But I do love taking a meal to someone in need.  For most of my friends know,  from me you will get a warm rotisserie chicken and a salad from Costco.  Oh and of course a treat of some kind.  It is not my cooking ability I need to bless another. I am not disqualified from the women's tribe of caretakers because I do not have the time or patience to cook.  (Especially when Costco does just a find job!)
The time we spend sewing into others from our own abilities is all it takes.  It does not have to be elaborate or cost a lot of money.  Go fold some laundry for a friend, run errands for them, babysit their kids….do it before they need it.
These ladies showed me how precious what we build now is in the future.  There will be a season when surgeries and health scares could be more frequent than they are now.  Life is so much more rich and full with the relationships that invest in us and us in them.
And the food is so much better when someone else prepares it!
Share with us in the comments about your own tribe. How do they invest in you? How do you bless them ?