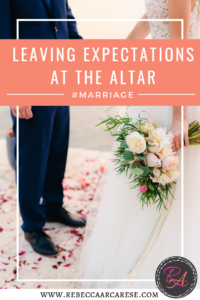 If you have been married for more than a day, you have experienced some relationship bumps.  Unmet, unclear, unfair expectations perhaps?  We expect things from our significant other.  Even if we think we do not…there is a moment.
Among many I speak to, it seems there are many expectations around loading the dishwasher, putting the toilet paper on the holder, and even what side of the bed you will sleep.    I stopped ironing my husbands dress shirts early on because I apparently iron on the wrong side of the ironing board.  Bless.  There are people that can dry clean them. Boom problem solved.
Expectations come from the lessons our past has taught us.  The proper way…that only YOU know… like how to load the dishwasher.  Any other way will not result in clean dishes.  It is a convincing argument.  But what happens when loading the dishwasher becomes a measure of how much your spouse loves you.
How can expectations impact our marriage (or any relationship!)?
E – Excuses.  Do you use expectations of what should be, could be, or would be to justify your own actions?
X – X-ray vision – We often judge our spouse by their actions while we expect them to judge us by our intentions. Transparency is key.
P– Peace – Do we expect the best from our spouse?  Peace does not mean being a martyr.  Our attitude makes the difference.  If we are expecting the worst it will change the way we react.
E – Expand your mind – If there is only one way we expect things done, how will we grow and experience new things in marriage?  There are so many "I'll never…." phrases that I have had to eat over the years.  We change. Seasons change.  Your "I never" may be around the corner. Be open.
C – Comparisons – The never-ending trap that can create the greatest gap between expectations and reality.  No two marriages are alike. Find your race and run it well.
T – Time – Time together as a couple is so important.  What sort of expectations do you have on each others' time?  I dislike hearing "he/she never answers the phone during the day".  Work, no matter in the home or in the office, may have to take priority.  If you are time-starved in your marriage, schedule a time together to talk about the details of the day.   Respecting each others time is so important.  We all process stress differently.  Give your spouse the time and space they need.
Early in our marriage, we were a part of a young marrieds small group.  We watched the marriage series, Laugh Your Way to A Better Marriage. 
It was a game-changer for me.  Whatever the resources you may use, making your marriage a priority is important.  We should only focus on ourself  -give your best 100%.   I did not marry my husband to parent him.  He has to give his best on his own. It is not up to me to decide what that looks like or if it is really his best.  Marriage is not 50/50.  It is two individuals coming together as a team.  Teams support each over, cover each others' weaknesses, promotes each others' strengths, and work together in hard times.  There may be a season of illness or circumstance when his 100% is less than normal.  Vice versa.  It is a season.
Build your team.  Support your team.  Believe in your spouse.
Expect the best.