Is your "stuff" crowding your circumstance?
Last year we packed up our belongings and moved them into the garage.  We made every effort to showcase our house. It's what you do when selling. Right?
Days turned in to months. Months turned into a year.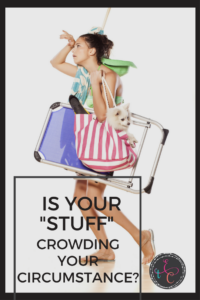 We have learned to live minimally. There is something to the blessing of less. Less is truly more?
However, our stuff still sat there in the garage and our house did not sell.  Houses around us sold in a hot second.  My best friends house sold for full asking price with holes in her yard and a broken septic!
What is happening here?
Have you ever found yourself in a situation where you know you are doing everything right.  Everything you can do in your own might.  Then you realize….that is not enough?
It can be a lonely season. It can also be a season to reflect.
We have accomplished so much when we were released from the mess of our "stuff".  Literally and figuratively!
When our time came.  We had multiple offers in one weekend and the last was "the one".  Yet there is always a catch.  It seemed to just be that season. The season to expect the unexpected- then embrace it.  What options do we have ?
The buyer wanted us out 
in 2 weeks
 as a condition of sale.  It was a good offer.  We found ourselves scrambling to move.
In all this time, we still had not found a new house.
Faith – the action and belief to move regardless of your circumstances.
Wow!  We were in the eye of the storm.  A calm place to check the selling of the house off the list. Yet the next wave seemed imminent in the unknown of where we would live. Since we lived so far without all our "stuff, we moved it to storage.  Then the four of us and our cat moved into an apartment with a pool.  It was summer after all!  There had to be a perk of the temporary situation.
And so here we sit.  In our apartment, a new season of seeking a new house. The journey provides daily lessons.  Lessons to be grateful that we have the ability to buy a house. A lesson in living with less.  A lesson of close quarters and respecting each others' space.  And the lesson that sometimes we do have to just be still and wait.  Not the kind of waiting where you sit on the couch day after day and binge watch Netflix. (Although there have been days where that is tempting). We do not wait for something to come TO us.
We are in the season of ACTIVELY waiting.  This season requires unity, peace, encouraging friends to silence the negative thoughts.
There are seasons in everyone's life where we "pack" away our stuff and wait.  What do your do with that season?  Are you surrounded by boxes of your stuff? Your past? Addiction? Depression? Discontent?
The season of waiting can be hard. It can be lonely.  Embrace the silence but appreciate the wait.  The season of active waiting has brought FREEDOM in so many areas.  We actively pursue our relationships – old and new.  We seek new opportunity.  We look to each other.
What freedom can your season bring you today? Embrace it!