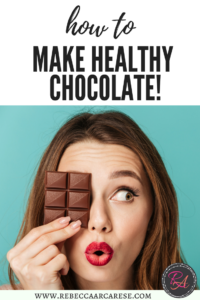 I recently sat down with my friends from The XGym and beegeandpeege.com.   They have some exciting projects in the works.  However, for the last two years I have been hooked on their fitness chocolate!  It is amazing.  You can find the full recipe here. There are some other great recipes as well as explanation on the fitness chocolate benefits.  
Recently, in support of our 30 day journey, I asked them to give some helpful tips for curbing and giving up the sugars.  Hope they will help you on your journey!
My Question To Beege and Peege:  
What 3 Ways could someone curb or quit their sugary foods habits? 
Beege and Peege:  
First remember that giving up sugar is a process. These might seem basic but they are good reminders that it is a process not a quick fix. 
Step 1:  Read food labels.   Stay away from fructose, sucrose, etc.  Beege has a great Facebook page resource group for products here. 
Step 2: Swap sugar snacks with veggies.  Pair veggies with a yummy dip and/or berries .
Step 3: Affirmations.  State what your goal is – to continue heath eating.  The goal is not really to stay away from sugar. 
You can find more at our website: www.beegeandpeege.com.  The brain test we are creating will help determine what will help keep you on a healthy habit course!
Thank you for Beege and Peege for sharing these tips and their Fitness Chocolate recipe!  My daughter and I make it with Chia seeds as our favorite!
Beege and Peege are stair climbing, Keto eating, fitness gurus that are so passion about helping others!  We do not need to be at the fitness level in which they operate in their own daily life.   We just need to continue on making small daily decisions to help us on our journey.  No matter what that looks like in our individual lives, if you are seeking to eat a Keto diet or find some yummy chocolate for your snack time…they are a great resource.   
Share one of your favorite healthy recipe for this Mother's Day weekend.