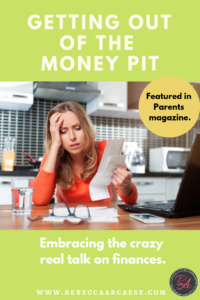 January seems to be the month to talk money.  Getting ready for tax season, New Year's Resolutions, budget time….it is all good. But let't be honest –  we know  we mostly want to run and hide.  Do you find an excuse, any excuse, to not get real on finances?  Why is it that it is the one pit we will continue to keep in our life?  We can eat more salad, join a gym for free this month, or give up electronics on a New Year 30 day fast…..just as long as you do not talk money.
So we are going to talk money.  I know…it is crazy talk.  The real. The Honest. The Guilt-free, just get it done talk about changing our mindset about money.   This is not a resolution.  It is a whole new perspective
Why? Because when you change your mindset on money you will open up a whole new world to dreams you thought were not in your reach.
Believe me when I say, this is the last subject I would choose.  Why finances and money when I am not a financial planner or even an accountant?  Because I have been there, done that, and stayed out of credit card debt for 14 years.  Why now?
Last year, a fellow blogger did an interview when they asked if anyone would share their story on getting out of debt.  (You can read that here).  Who knew the door that article would open.
Months later I was contacted by Parents magazine for an interview on credit card debt .   You can read that article here.
Many people in our friend and acquiesce sphere have asked us to show them how we did it. The steps. The "1-2-3 Bam I'm debt-free" program.
It does not exist.
The number one reason why those who have asked us how have failed – mindset.
Too harsh?  No.  It is honest.  I can say it because I understand the place where debt consumes your entire life- thoughts, dreams, time, emotions and can take over your marriage.  It is a money pit.
So why now?
It seems I can not escape it.  I am always happy and willing to share our story.  If you have read any part of my blog, you know that I believe that your story matters.  My family's story on debt matters.  It just is not pretty. It is not plug-in-play.  It is not easy.
You CAN do it.  The time is now .
These two different interviews impressed upon me the importance of the willingness to talk about money in a real way.  Debt can lead to marriage issues, health issues, and so much more "yucky stuff".
Will you join me in this journey to consider a new way of life?  I am not promising you a program that will work for you.  I am promising you honest questions, encouragement, and stories of how we made the shift.  How our world is so much different now that we are not afraid to answer the phone or open the mail.  Bill collectors are not encouraging.
Since the two articles are interviews, they can not go into as much detail or express all my emotions about the stages of our get-out-of-debt journey.  So the next few weeks I will break down the emotional journey to prepare your heart to make the same journey.
If you are willing, join me.  I will encourage you in honest and real conversation.  There will be lots of freebies and videos.  Please join us on Facebook and Instagram to engage in the conversation.  IF you ask the questions, I will answer from my journey and get you a resource when possible.
This is an important conversation.  It is not meant to rack you with guilt or consume you with embarrassment   Join me in taking that out of the equation.  It is what it is right now.  You can change your circumstance. You are not alone!
I would be honored to walk along side you in this journey.
Let's get out of the money pit and fill in the hole – permanently!