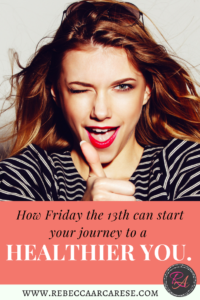 How Friday the 13th can start your journey to a healthier you. When I was about thirteen, my best friend and I thought it would be a great idea to watch The Shining.  We loved horror movies. Usually we watched the ones so ridiculous that they were more funny than horrifying.  Until we met our match. I do not totally recall the thought or approval process behind watching The Shining.  All I know is even today I can vividly remember sitting in the living room of her new house (at night of course) watching this movie.  It left a mark. 
Sometimes I feel like it is a teenage right-of-passage to make unhealthy decisions. Some pass with time and may turn in to a funny lesson-learned tale.   What about when that unhealthy decision leaves a mark? When a habit is formed?  When your circumstances are changed? 
Have you ever experienced a moment where an unhealthy decision creates a habit? 
Friday the 13th brings many to scary movies, watching for the unlucky circumstance, and sometimes general tomfoolery.  I am all for fun.  Fun today no longer includes horror movies. I like sleep too much. 
It is in the name of fun that sometimes we make our excuse to continue an unhealthy habit or activity. For years, I smoked cigarettes.  I gave it up long before my kids but there is nothing like having to provide a teaching lesson of experience – especially when you have to admit a bad choice.
I have days when I would like to go back to the simplicity of getting scared senseless by a movie.  If that is the worst decision – well lesson learned.  Some days adulting is hard.  Making the right choices for my mind, spirit, and body are not always in alignment with my feelings. 
So today -Friday the 13th.  Seems like as good of day as any to kick off a 30 day journey.  For some it may be a challenge.  Maybe for you it will be the encouragement of sharing and hearing the stories of others to know you are seen. You are not alone. You are valued – in all life's crazy! 
Join me in the next 30 days – Embrace the Healthier You (in the midst of all your crazy). 
Share with us on Facebook and Instagram! We will have a few new voices to join the journey with us.   Be the author of your own story! You can do this!  Join us on the adventure to a healthier place even in the midst of crazy circumstances!