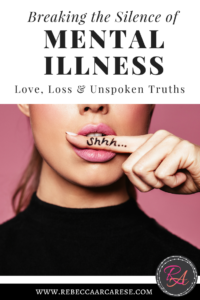 It took me awhile before I realized the screams I was hearing were my own.  When I came out of my dream-like state, my co-worker friends were shaking me and asking me loudly to focus on them.  I was standing in a conference room down the hall from my desk. The last thing I remember was picking up the phone. 
The fifteen minutes I do not remember  that day was not the only thing I lost.  Both are gone forever. 
My story is not uncommon.  It is just not to be spoken.  Those fifteen minutes I lost, it has taken 20 years for me to share them.  I will share them with you this month. 
May was Mental Health awareness month.  I can not speak to what it is to suffer from mental illness. It is not my story to tell.  What I will share in this next two weeks is hard.  It is not what many people want to hear. There are so many that need our love.  Fierce love. Unconditional love.   Will you join me on this next journey? 
Join me as I share what it is like to walk along side someone with a mental illness.  The judgement, isolation, and fear that families deal with in silence.  It is not to overshadow the immense difficulties of those with mental illness. They are valid.  If that is you – your story matters. You matter!   I can only share from the place of knowledge I possess.  The helper to those that need it. 
Are you a helper?  Are you lonely? Do you feel judged?  I encourage you to share as you can only share. Your story.  Not your family member's story of illness – your story of unconditional, challenging love.  You matter too. 
I will share as many resources as I know to share.  
If you struggle with mental illness and need a lifeline.  CALL:  National Suicide Prevention Lifeline:  1-800-273-8255
Let this next journey be one to create the habit of support in your life. One where you no longer feel alone.