Over the next 30 days we will talk about being thankful.  Not in the way a Hallmark card or Pinterest-world can make us feel like we should have it wrapped neatly in a bow.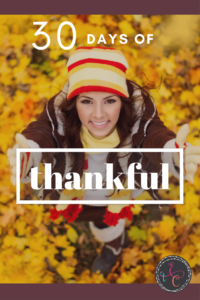 Why are we thankful?
What should we give thanks for in spite of the varying degree of the suck-factor of circumstances that surround our daily lives?
Why indeed?
For those in a good place, GREAT! Your friends need your tangible actions of thankless deeds, words, and a small gesture.  We celebrate and are thankful for the times in which abundance and life like that first slow-moving, easy breath of spring.
Seasons can also bring us times when we are judged for our opinions, choices, facts-beyond-our-control, and so many other random variables.  So why not give thanks for those tangible things that get us to the other side. Even if we don't recognize it until we are there.  Someone recently said to me, "the problem with the grass being greener on the other side, is that you are on the other side. "
It is all about perspective.  Thankfulness can be about taking one moment over the next to breathe.  Or feeling less sad than yesterday.  For the mom in post-partum, it could be thankful today to take a shower and have a great cry with a friend.   For the friend that has yet to conceive – a quiet cup of coffee with no answer to the "why".
We can be thankful for these moments without diminishing the difficulty of the season.  There are women out there screaming inside and to you I say, "I see you. ", "I hear you".  The act choosing to be thankful in a moment does not ease the journey, but it can bring perspective along the way.
I choose to be thankful for the stories of YOU. Of your lives.  They are your stories. They matter.   We can have opinions on politics, religion, process, and who should do what and when.  Thankfulness is in the story of our lives – good and bad.  Thankfulness is not an opinion. It is an act regardless of feeling.
I am thankful for the diversity of my friends.  Not one is like the other – that is why I am thankful.  We live our lives due to different choices, past upbringing, marriages, children, and yes spiritual beliefs.  Yet in spite of it all, I love them dearly.  It is the differences that make me thankful.
So for the next 30 days I will share stories of my life from circumstances that vary in the suck-factor.  Some are resolved. Some are not.  In the moment that I FEEL like saying, "I'm done. I'm tired. I can't", that is the moment that I choose to find ONE THING.
The ask to you in these next 30 days is to follow along….choose one tangible thing today.
Then subscribe and share your story.   You will get a different encouragement each week.
Please let us know if we can share your story.