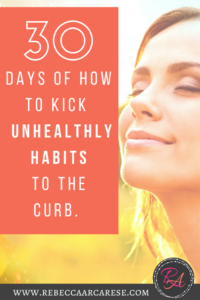 30 Days of How to Kick Unhealthy Habits to the Curb. Did you start the year with a word, a resolution, or a plan?  Intentions and plans are only as good as our actions.   There are so many areas I do well to keep on track.  But there are some that I continue to fail.  Are there areas in your life that you want to change? That you need a little reboot? 
January seems so long ago now.  Let's look at the next 30 days.  How can we successfully put some new actions in place to get our goals back on track? 
Pick One thing. 
I have difficulties with this area.  There are times when I feel like I have ten plates spinning and multiple apps and social media support groups to improve "all" my weak habits.   There is strength in picking one thing.  Usually it is the one thing that impacts the other areas of your life.  Is it eating habits, exercise, making friendships, relationships, finances, or work that is needing a serious kick in gear?  Pick one thing.  
Commit to changes for 30 days. 
I can do anything for one month.  When I first went gluten-free it was because of a 30 day challenge from my doctor.  I swore my health challenges had nothing to do with my love for bread.  I went on a 30 gluten-free eating plan to PROVE HIM WRONG.  It was a serious commitment.  He would be proven wrong.  In the end, he was right, I felt better, and I had created a habit in the process.  Whatever. Whatever it takes.  it has been three years.  I still miss bread.  But I love feeling better more. 
Get support and advice from qualified voices. 
When I first gave up gluten I had several people send me articles on how it was a fad.  How it was not the correct thing to do.  However, my doctor has been with me on my health journey for years. I had seen eight specialists before giving up bread. (Yes I was determined!)  So when the time came and I made that 30 day commitment it was the voices that knew my struggle that were amplified the loudest as my daily inspiration.  Those Pinterest loving friends that can find recipes and tasty replacements for the foods you love are your lifeline. 
I am not a fitness or food expert.  Your thing is your thing.  This month we will feature bloggers from various areas.  I will be covering finances, debt-management, mental health and so much more.  But for me, my 30 day reboot will be personally about fitness.   Join me on Facebook to share and document what ONE habit you will be committing to dive into this next 30 days!
And because I like to mix it up, we are not starting on the first of the month.  It does not matter what it is…just start.  Share with us on Facebook and Instagram so we can support you in your journey!  You never know what fun freebies will be in store for you in this journey!