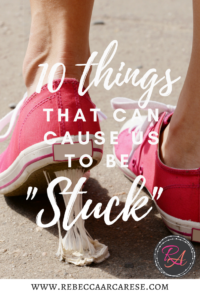 For the past year I have been in a season of transition. Without a permanent residence and my families belongings in storage it would be an easy season to be "stuck".  Have you ever found yourself in a season that you feel stuck?  Not necessarily full depression, just a place you exist but not work to thrive. 
How can we look at events and moments in our life that could lead to a feeling of being "stuck"?  I have found there are have been several opportunities in which I could have translated into reasons (excuses) to be stuck.  It was often a fine line.  A series of small daily choices I had to make to keep moving forward.  Sometimes successfully – others not so much. 
Here are the top ten areas I find to give me the most temptation to derail my zest for life. 
Kids schedules
Moving
Family illness
Job situation
Health challenge
Busyness of life
Relationships
Eating habits
Sleep habits
Change of seasons
What is one thing you need to work to "unstick" this month?  Let's hear from you.  Share with us on Facebook or in the comments.  I would love to hear how we can keep moving, keep our perspective positive and encourage each other in the low points.